Our Company and Industry
RENOVA is an independent renewable energy developer and power producer. We develop, own, and operate solar PV, biomass, wind, and geothermal power plants.
The world faces profound challenges including human induced climate change and the depletion of natural resources. As the world increasingly looks towards a sustainable future, we strongly believe that renewable energy will be a key part in solving these challenges.
Many countries throughout the world have established ambitious targets for increasing the use of renewable energy. In some European countries, more than half of their electricity is produced from renewables, at a cost that is competitive with conventional fossil fuel sources.
While usage of renewable energy increases globally, Japan has lagged in comparison with other advanced nations. However, the sector is expected to experience rapid growth. The Japanese government announced its Energy Mix Policy in June 2015, which aims to increase the ratio of renewable energy to between 22-24% by 2030.
RENOVA's goal is to become Asia's leader in renewable energy. With our founding roots in environmental consulting, RENOVA has undertaken well over 1,000 environmental consulting projects, and possesses in-depth knowledge and a broad network in the renewable energy sector. Our industry-leading portfolio of large scale solar PV plants in Japan totals 270MW*1, and we intend to expand our generation portfolio in biomass, wind, and geothermal to further cement our position as an industry leader.
*1 Includes projects in operation and under construction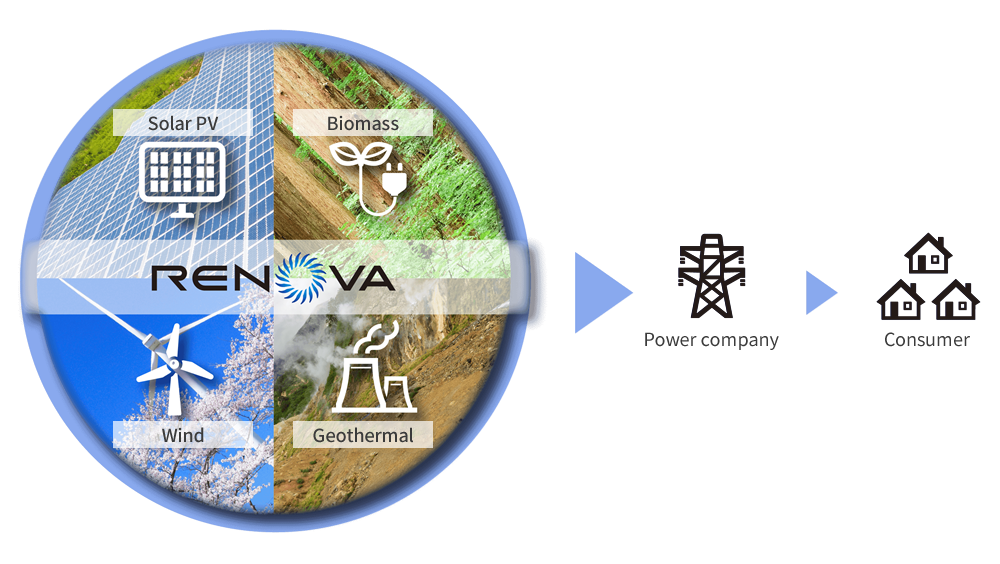 Partnership with Local Communities
Developing renewable power plants is only one aspect of RENOVA's business. Once completed, each power plant will produce sustainable energy for several decades, and therefore, we place great importance on working closely with the local communities that our power plants are a part of.
We seek to create value in partnership with local communities. When developing new power plants, we conduct extensive analysis on the site, weather patterns, and other environmental and geophysical conditions. Equally important however, is determining how we can contribute to communities and the local economy. With each project, we seek to understand the community's needs and values, and in partnership with community leaders, local governments, and businesses, we work to develop and operate a successful project for all stakeholders.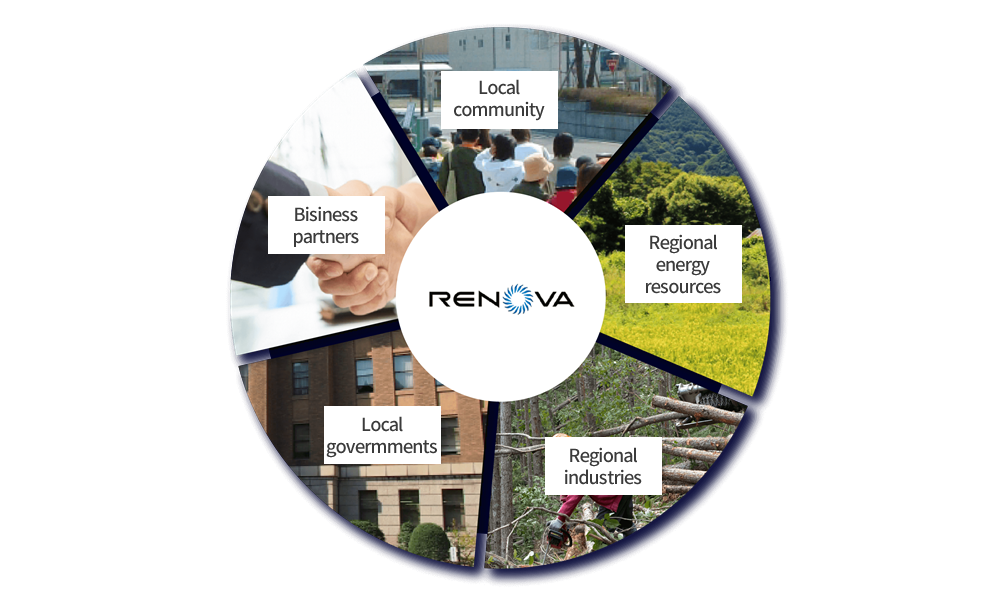 Our Goal
Since our founding in 2000, we have constantly worked to create new and innovative businesses that are environmentally sustainable. Today, we continue to work towards a sustainable and economically viable future through the development and operation of renewable energy power plants.
RENOVA's Growth Trajectory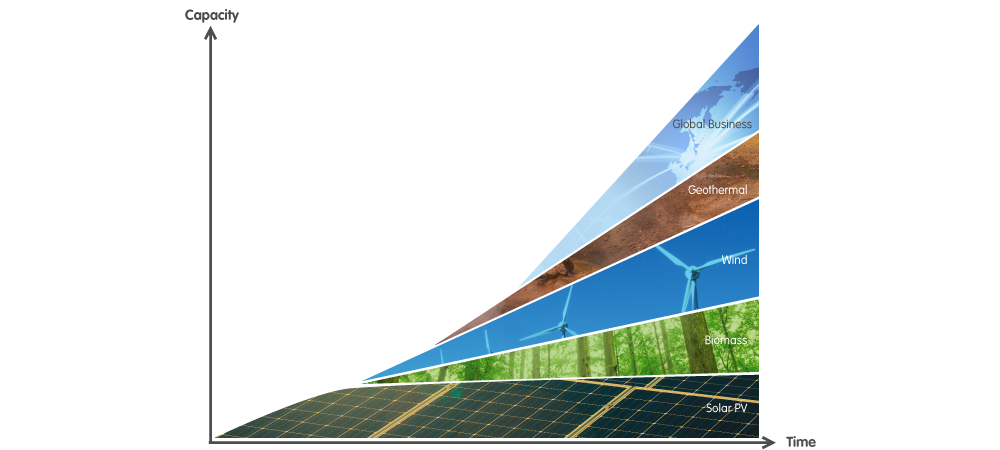 RENOVA's Business Domains
RENOVA is one of the few independent Japanese renewable energy players that spans multiple energy types, including solar PV, biomass, wind, and geothermal. Our broad approach makes it possible to utilize a wide variety of renewable energy resources. We seek to build a diversified, reliable, and flexible power generation portfolio that combines variable power sources such as solar PV and wind with stable sources such as biomass and geothermal.
RENOVA develops, owns, and operates solar PV, biomass, wind, and geothermal power plants.